St. Philip House News
August 1, 2021
40 Years of AIDS: How Far We Have Come - And Still Need To Go
Read more.
---
July 1, 2021
People Living With HIV & Aids Have A Higher Risk Of Suicide
Read more.
---
June 11, 2021
US Urges World To Ensure HIV Services For LGBTQ Community
Read more.
---
June 1, 2021
Why Don't We Have An AIDS Vaccine After All These Years?
Read more.
---
May 3, 2021
"I Refuse To Be Faceless" Gainesville AIDS Survivor Continues Fight Against Stigma
Read more.
---
April 5, 2021
One Man Is Using His Experience With HIV/AIDS To Help With COVID-19
Phil Wilson of Black AIDS Institute. He's retired but still connecting the dots on illness. Now he is focused on COVID-19 and how to fight vaccine hesitancy within the HIV/AIDS community.
Read more.
---
March 1, 2021
How TV Stories Have Shaped Our Understanding of AIDS
It is not an exaggeration to say that television has played an integral part in how many of us came to understand what the letters HIV and AIDS stand for. Read more.
---
February 17, 2021
Vaccination Efforts In Sub-Saharan Africa Echo AIDS Epidemic
Sub-Saharan Africa has only administered a few dozen COVID-19 vaccines. It brings back memories of the AIDS epidemic when hundreds of thousands died because life-saving drugs were delayed. Read more.
---
January 1, 2021
A Night Of Laughter - Comedy Night Fundraiser (to support St. Philip House)
On January 12, 2021, Chrysalis Center will hold its 9th Annual Comedy Night. Although this years event will be virtual due to the COVID-19 Pandemic, all proceeds raised from this event will benefit St. Philip House, a Chrysalis Center Program supporting individuals living with HIV / AIDS & their families.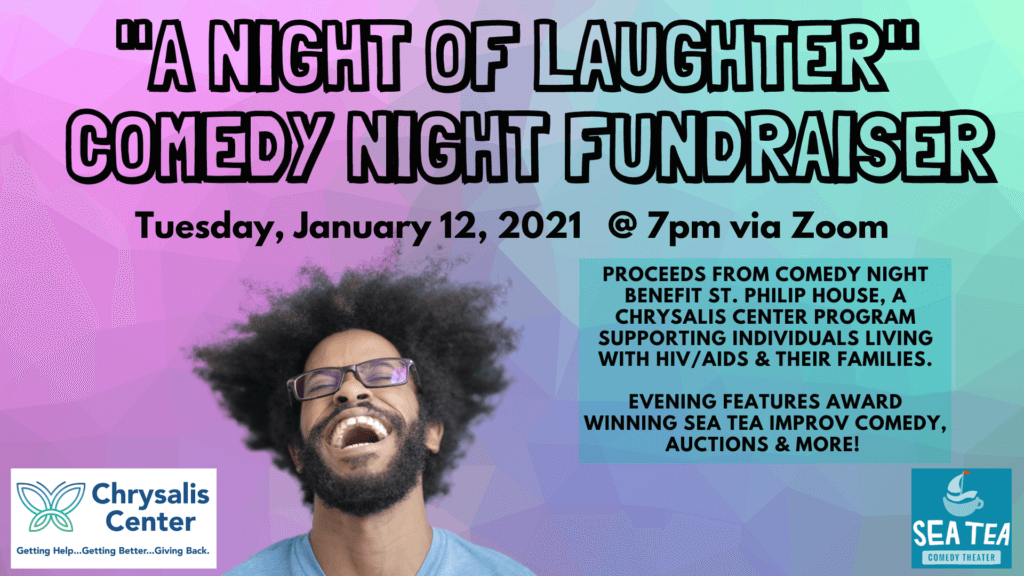 Tickets to this event can be purchased here.
---
November 23rd, 2019
St. Philip House, a program of Chrysalis Center, held it's 8th Annual Comedy Night on Saturday, November 23rd.
With more than 100 guests in attendance, more than $4,500 was raised to support individuals and families living with HIV/AIDS.
St. Philip House and Chrysalis Center thanks everyone who attended, our generous sponsors, funny comedians Adam Parisi and Kareem Blue and Nuchies for their amazing food!
---
July 23, 2018 - Connecticut Mirror
An interesting report, released in the Connecticut Mirror, addresses the HIV racial divide. Please click on the link below to view this report.
https://ctmirror.org/2018/07/23/despite-progress-hiv-racial-divide-persists/
---
African-Americans Still Disproportionately Affected by HIV
June 5, 2018 - UConn Communications
African-Americans are still much more likely to be diagnosed with HIV than white Americans. A new review paper on the HIV/AIDS epidemic in the African-American community, published in Springer's Journal of Racial and Ethnic Health Disparities, shows that despite recent drops in HIV diagnoses across every population in the U.S., there are still great disparities between ethnic groups. The team publishing the paper, was led by Dr. Cato T. Laurencin of UConn Health.
A decade ago, Laurencin and his team published a call for action paper that highlighted high numbers of HIV diagnoses in the African-American community. The new follow-up paper draws on data from surveys such as the 2010 United States Census and the 2016 HIV Surveillance Report by the Centers for Disease Control and Prevention (CDC).
Worryingly, the paper's analysis shows that the trends highlighted 10 years ago have continued, and in some regards worsened. For male and female populations in 2016, Blacks were 8.4 times more likely than whites to be diagnosed with HIV, whereas in 2005 they were 7.9 times more likely. Specifically, the number of Black males diagnosed with the disease in 2005 was 9,969 and increased by 29 percent to 12,890 in 2016.
We believe that a concerted, re-dedicated effort – as seen with other national health emergencies, such as the opioid crisis – can create meaningful change in the decade to come. — Dr. Cato Laurencin
Black male-to-male sexual contact was the most common form of transmission of HIV, and the number of men that have sex with men who were diagnosed with HIV increased 154 percent, from 4,020 in 2005 to 10,233 in 2016. Laurencin and his team point out that if this trend continues, one in two Black men who engage in sexual contact with men will receive an HIV diagnosis in their lifetimes.
The number of African-American females diagnosed with HIV through heterosexual contact increased by 75 percent from 2,392 in 2005 to 4,189 in 2016, and there was also a 76 percent increase in HIV diagnoses among heterosexual Black men in the same time period.
"It is clear that much more needs to be done to address the fact that African-Americans continue to be overrepresented across all categories of transmission," says Laurencin.
Laurencin and his team recommend a five-fold plan aimed at healthcare practitioners and community advocates. The plan includes working to eliminate prejudices and unconscious biases when treating patients and employing new technology and techniques to help prevent or eradicate HIV/AIDs. Working toward reducing secondary factors such as incarceration rates, poverty, STDs, and other circumstances that increase the chances of contracting HIV is another recommendation.
"While higher rates of poverty and prevalence of negative socio-economic determinants in the African-American community are important underlying factors," says Laurencin, "we believe that a concerted, re-dedicated effort – as seen with other national health emergencies, such as the opioid crisis – can create meaningful change in the decade to come."